The Lasting Effects of a Continent on Fire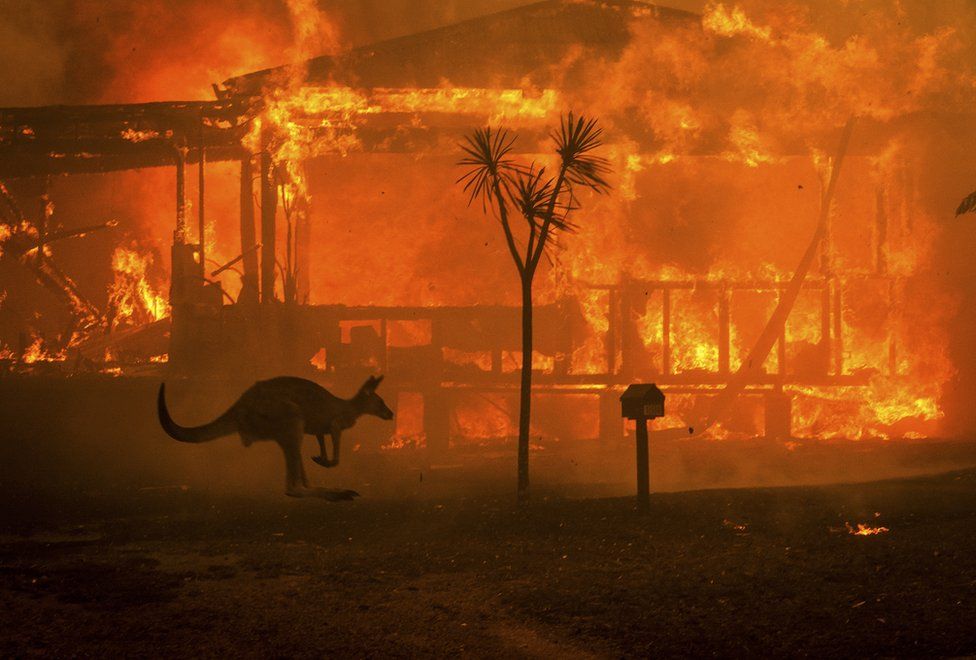 By Mariah Almonte, Associate Editor 
"It's hell on earth!" After four months of devastating bushfires throughout Australia, thousands remain trapped in seaside towns surrounded by fire and clouded with smoke. As temperatures continue to rise above 104 degrees Fahrenheit, "severe" fire danger alerts have been issued across the Continent. On January 1, 2020, Australia's Prime Minister, Scott Morrison, deployed the military to provide aid and help evacuate thousands of residents from the southeastern coast. With no way out due to road closures and skies too clouded to fly, hundreds have sought shelter on the beach while living on boats and being transported on naval vessels as evacuations continue.
Though the continent is familiar with large wildfires during its summer months, the current state of the climate has left Australia defenseless. The insatiable bushfires that started in September 2019 have already destroyed 12.34 million acres and continue to spread. With two more months of summer, authorities fear that the fires will grow stronger and continue to engulf the nation. The reported rainfall deficiency in the months leading to the wildfire, from January to August 2019, left most of the continent with lower than average soil moisture, higher wind speeds, and very little humidity in the air.
The Bureau of Meteorology confirmed that 2019 was Australia's hottest year on record, and without significant strides towards complying with climate policy, this is only the beginning. Climate change is to blame for the wildfires caused by dry lightning and record-breaking heat. However, humans are to blame for expediting this global climate crisis. There are reportedly 200 fires that continue to ravage rainforests, suburbs, and small towns alike, 23 people have been reported dead, dozens have gone missing and 480 million animals have been killed.  As time passes, the fires will continue to sweep and effectively destroy the wetlands and Eucalyptuses forests, leaving the animals with few places to seek refuge. With roughly 87% of Australia's wildlife being endemic to the country, the gravity of the continent's wildlife destruction will have deleterious effects worldwide.
According to Climate Analytics, Australia is one of the highest per capita emitters of carbon dioxide in the world. Coupled with a government that promotes fossil fuels and supports the continued use of coalmines future destruction seems to be inevitable. Though Australia is a part of the Paris Agreement, government officials have done little to meet the 2030 target of a 26-28% reduction in greenhouse emissions. Though the agreement sets environmental plans and procedural commitments for each party, it is not legally binding and countries that fail to uphold their end of the bargain suffer no legal recourse. In fact, rather than attempt to make progress in its environmental protections, the Climate Change Performance Index has reported that Australia scored a 0/100 in climate policy. Rather than reduce emissions and energy use, Australia is on its way towards warming up by more than 3 degrees Celsius in the next century. This warmer planet will lead to rising sea levels and mass flooding that has the potential to displace up to 6 million people worldwide.
This is a global crisis. The destruction of one eco-system leads to animal extinction, increased pollution and the depletion of valuable resources. Researchers and professors suspect that the plant and animal death toll is far greater than 480 million, and it could take up to 40 years to restore the habitats that have been destroyed. To reverse the damage that we have caused, we must act before it is too late, or the entire world will suffer the consequences.
Click here to make a donation today.
References
Amy Gunia, Australia's Bushfires Have Burned an Area the Size of Vermont and New Hampshire Combined, Time (Jan. 3, 2020) available athttps://time.com/5758186/australia-bushfire-size/
Adam Morton, Nick Evershed and Graham Readfearn, Australia bushfires factcheck: are this year's fires unprecedented?,The Guardian, (Nov. 22, 2019) available athttps://www.theguardian.com/australia-news/2019/nov/22/australia-bushfires-factcheck-are-this-years-fires-unprecedented
Eleanor Ainge Roy, Australian bushfire crisis: global figures and media react to 'climate emergency' The Guardian (Jan. 2, 2020) available athttps://www.theguardian.com/australia-news/2020/jan/02/australian-bushfire-crisis-global-figures-and-media-react-to-climate-emergency
Jeff Sparrow, Australia's Fires Give Us a Glimpse of What's Coming, Jacobin Magazine, (Jan. 3, 2020) available athttps://jacobinmag.com/2020/1/australia-bushfires-climate-change-new-south-wales-scott-morrison
Kate Ng, Australia wildfires: Half a billion animals and plants killed as glaciers turn black, Independent, (Jan. 2, 2020) available athttps://www.independent.co.uk/news/world/australasia/australia-wildfires-animals-plants-glaciers-sydney-koalas-nsw-a9267316.html
Livia Albeck-Ripka, Isabella Kwai, Thomas Fuller & Jamie Tarabay, 'It's an Atomic Bomb': Australia Deploys Military as Fires Spread, The New York Times (Jan. 4, 2020) available athttps://www.nytimes.com/2020/01/04/world/australia/fires-military.html
Mark Eggleton, Australia Slips Further on Climate Action,National Geograpghic (Jan. 3, 2020) available athttps://www.nationalgeographic.com.au/australia/australia-drops-down-under-on-climate-action.aspx
Patrick A. Odysseus, Thousands flee Australia's coastal towns as raging wildfires close in, Washington Post, (Jan. 2, 2020) available athttps://www.washingtonpost.com/world/asia_pacific/thousands-flee-australias-coastal-towns-as-raging-wildfires-close-in/2020/01/02/c33d2250-2d0a-11ea-bffe-020c88b3f120_story.html?arc404=true
Paris Climate Agreement Q&A, Center for Climate and Energy Solutions, available athttps://www.c2es.org/content/paris-climate-agreement-qa/
Rick Noack, Why Australia's prime minister just defended coal, even though the country is 'on fire' and voters fear climate change, The Washington Post (Dec. 23, 2019) available athttps://www.washingtonpost.com/world/2019/12/23/why-australias-prime-minister-just-defended-coal-even-though-country-is-fire-voters-fear-climate-change/